Welcome to Wings of Gold Motorcycle Jewelry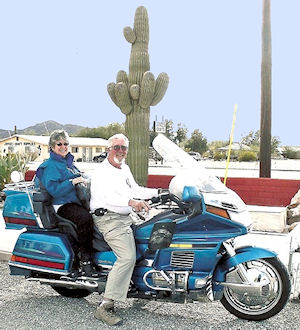 Meet Dave and Linda Bartholomew -- avid motorcyclists since 1984. We tour together on our Gold Wing and are active in various touring groups.
A solid knowledge of gold jewelry and our love of motorcycle touring are the foundations of Wings of Gold. The interest in jewelry began as a hobby in 1980. Soon after came our first touring motorcycle and we decided to combine the two hobbies.
The eagle is our central theme. To us, it represents the freedom we experience while motorcycling. We admire its majesty and its qualities of courage and power. It is a symbol honored both by our country and within the motorcycling community.
Throughout our years of motorcycle touring, camping and vending at rallies, we have enjoyed many beautiful places and have made many wonderful freinds. Please e-mail us with any questions about our web site items or any special jewelry request.